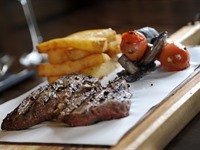 Your Dining Experience
Whether you are celebrating or fancy a night off cooking, at the Red Lion you will enjoy a delightful dining experience.
Our Head Chef, Sam Harmes, is passionate about creating classic dishes with a modern twist.
We update our menu seasonally, ensuring you eat the freshest ingredients.
In addition to the sample menus below, we offer daily specials. Yummy!
Reservations required for parties of 6 or more.
To book a table call 01223 832047.